The Many Secret Lives of Melania Trump: Her Very Possible German, New Abwehr, and Mafia Connections - 8:13 AM 1/19/2019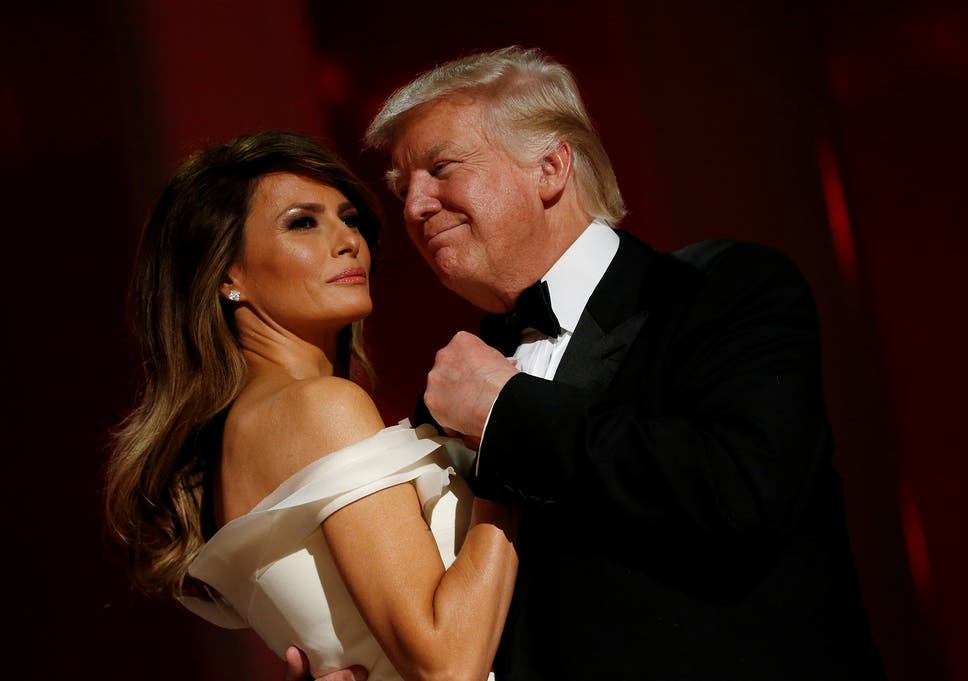 The Trump family has the largest number of Jews in the first family All three married children of Donald Trump being married to Jews
Donald was a brunette in 1994 Now he is a flaming quasi orange blond Daddy Fred does look a bit Ashkenazi
The Trump (original surname Drump ) foray into America supposedly begun with Fred Trumps father Frederich Trump who emigrated to the US from Germany in 1885 His (married sister )
Katharina
had emigrated in 1883 Her married surname was was
Schuster
which is a
German and Jewish surname
Another
of Trumps
grandaunts
married a man named
Freund
which is
Jewish surname
Grandpa Freidrich or Fredrick 's Trump's career path was of a distinctively Jewish nature He moved to areas with the Gold Rush never mining himself but "mining the miners" He moved to the
Seattle
area in 1891 and set up a
restaurant
/
brothel
in the red light district there .In 1894, Trump sold the Dairy Restaurant/brothel , and moved to the emerging mining town of
Monte Cristo, Washington
,where there was a mini Gold Rush Instead of taking part in the rush Trump serviced the miners rushing in with another
restaurant
/
brothel
and again made money In 1898 Trump started yet
another
restaurant
/
brothel
named The Artic Horse servicing miners in
Bennett, British Columbia
,Here Trump entered into a partnership with the
Jew named Ernest Levin
Donald Trumps grandfather ran three brothels in three different cities the last one with a priestly jewish Levite
Trump the brothel keeper then went back to Germany picked a wife
Elizabeth
Christ
from his town of
Kallstadt
and came back to New York where he became a
real
estate
speculator with the money he had made from his three brothels Donald Trumps father Fred was born in 1905 Fredrick died in 1918
FREDRICK (FRED) TRUMP JNR
Donald Trumps mother
Mary
Anne
McLeod
supposedly was the daughter of Scottish fisherman from the
Isle
of Lewis
in
Scotland
Her arrival in New York was also the direct result of a scandal that struck her family at home – the sister who hosted her in New York, Mrs Catherine Reid, gave birth out of wedlock in Scotland in 1920. Mary Anne had two other sisters resident in the USA at the time, Mrs Christina Matheson and Mrs Mary Joan Pauley There's
nothing
in the media about
Trumps Scottish cousins in New York the Mathesons and the Pauleys
Trumps "Scottish relatives" have probably gone back to their Jewish roots and dispensed the "cover names" see
When Scotland was Jewish
Fred Trump who
donated
land
for the Talmud Torah of the Beach Haven
Jewish
Center
discusses the impressive future with the assemblage Source @sotohito
Both of Donald Trumps parents Fred and Mary Anne died in the
Long Island Jewish Medical Centre
in New Hyde Park.
Fred's rise in New York real estate was intimately tied to the success of
Abraham
"Bunny"
Lindenbaum
, his longtime counsel
and his son Sandy
, and
Abe
Beame
, the first Jewish mayor of New York.Both Lindenbaum and Beame were intimately tied with the New York politics of Tammany Hall
Bunny and Sandy Lindenbaum , Abe Beame and Howard Rubenstein
Beame had known Trump's family for 30 years.In the beginning, Donald Trump used Beame's closest political associates — publicist
Howard
Rubinstein
; lobbyist, lawyer, and fund raiser Abraham "Bunny" Lindenbaum; and Bunny's son Sandy — now part of a large Manhattan law firm — as the major political brokers on his Manhattan projects.
Bunny
Lindenbaum
was an orthodox and fanatical
Zionist
Jew
. He was president of the Brooklyn Jewish Community Council, and the Brooklyn Jewish Center (BJC). The BJC is connected directly to United Synagogue of America, the World Zionist Congress, United Jewish Appeal, National Jewish Welfare Board, and the MOSSAD.
Source
The NYT says in the 2012 obituary of Samuel Lindenbaum: Mr. Lindenbaum cultivated a scholar's knowledge of the Zoning Resolution, the arcane document that governs development in New York. As a result, he was able to bend the resolution to his clients' will without breaking it. And because his clients were major builders and landowners — among them Harry B. Helmsley, Harry Macklowe, Larry A.Silverstein, Jerry I. Speyer, Leonard Litwin, Steven Roth and Donald J. Trump; the Fishers and Tisches and Rudins and Roses.
With the exception of Trump all the rest are
overt
Jews Why would Lindenbaum "shower his blessings" on only one Goyim in New York ? Could that that Goyim not be so Goyimish after all?
As Donald took over from Fred
Roy Cohn
and
Louise Sunshine
gradually replaced the Lindenbaums and Rubinstein as young Trump's primary resources and agents.The Manhattan hard sell has supplanted the friendly, shrewd, understated style of the old Brooklyn days.
Cohn (Cohen) besides being a gay pedophile was one of those major Jewish figures with his fingers in multiple pies.Cohn also had a fetish for
Green
Frogs
Cohn became famous during Senator
Joseph McCarthy
's investigations into Communist activity in the United States during the Second Red Scare.Cohn was McCarthy's chief counsel and gained special prominence during the
Army–McCarthy hearings
.
Cohn was known for his active social life, charitable giving, and
combative
personality
. In the early 1960s he became a
member
of the
John Birch Society
and a principal figure in the Western Goals Foundation. He maintained close ties in conservative political circles, serving as an
informal advisor to Richard Nixon and Ronald Reagan.
David Friedman Jason Greenblat
More of Donald Trump's Jewish associates include
Jason Greenblatt
Greenblatt has worked as a
real-estate lawyer for Trump for 19 years,
is an Orthodox Jew and Yeshiva University graduate, Greenblatt
studied at a West Bank yeshiva
in the mid-1980s and even did armed guard duty there.
David
Friedman
, 57, son of a Conservative rabbi is the Trump's
longtime
attorney
Friedman lives in Woodmere, New York, and owns a house in Jerusalem's Talbiyeh neighborhood
Trump Wilbur Ross and David Rene de Rothschild head of Rothschild Inc
Another important event in Trumps business career was the mess in Atlantic City that nearly destroyed Trumps career Trunp was at one time owned a quarter of Atlantic City's casino market. But Trump was
heavily in debt
, and he started missing bond payments on his — and Atlantic City's — largest casino, the Taj Mahal, in 1990.
Wilbur Ross, then an investment banker working for Rothschild Inc., helped bondholders negotiate with Trump
, whose finances were unraveling. The final deal reduced Trump's ownership stake in the Taj but left him in charge, and bondholders were unhappy when Ross presented the plan.
LA Times
"President" Donald Trump has three wives and five children (that we know of) Four of these five children are adults and three are married
Trumps wives Ivana Zelnickova Melania Knauss and Marla Maples . Both Ivana and Melania both have a certain Khazarian look
Ivana Zelníčková was born in the Moravian town of
Zlín
, Czechoslovakia, the daughter of Miloš
Zelníček
, who was Czech, and Marie Francová. Moravia and Zlin have a long
history of Jews
If you drop the second e in Zelnicek you get the Jewish
Zelnick
Ivana Trumps marriage to Trump was her second marriage Her first was to an Alfred Winklemeier, who was a real estate businessman
IVANKA , DONALD JNR , ERIC AND TIFFANY TRUMP
Trump has four adult children three from Ivana Trump and one from Marla Maples Three out of four are married toi Jews and Tiffany Trump is dating a Jew
Ivanka
Trump
is married to
Jared
Kusher
both of whose parents are Jewish Jareds father Charles Kushner is a convicted criminal and possibly a Mossad asset
Donald Trump
Jnr is married to
Vanessa Haydon

, 38, who is a designer and the mother of five children Vanessa's mother is Danish and her late father Charles Haydon was Jewish Charles Haydons original name was

Charles

Hochberg

and he was a lawyer
Eric
Trump
is married to
Lara
Yunaska
who has two
Jewish
parents
Tiffany
Trump
is dating Ross Carpenter both of whose parents are
Jewish
Four Generations
of the Trumps beginning from Freidrich Trump (or Drumph) have had close business and personal associations with Jews
ALL four of Donald Trumps adult children have married /are dating Jews That is no mere coincidence its a cohencidence
THERE IS A GOOD CHANCE THE TRUMP FAMILY IS CRYPTO JEWISH OR AT LEAST HAS SOME JEWISH DNA
When the Presidential Election Process begun no one gave Trump any chance of becoming President Yet there were the Jewish controlled networks giving Trump incessant coverage which seemed to be more then all the other candidates combined
The real deal wasnt getting Trump or Clinton elected It was making sure the choice was limited to one between two very blackmail-able and malleable candidates ie Clinton and Trump
Like many others I mistakenly believed Hilary Clinton was the Chosen One The Puppet Masters probably dint care if a obedient Clinton or an obedient Trump is "the President"
DONALD TRUMP WAS THE PRE SELECTED PRESIDENT THE PLEBS "CHOSE" THEY ARE CONNED INTO SELECTING A PRESELECTED NWO ASSET
NOW ALL WE CAN DO IS SIT BACK AND SEE WHAT ROLE TRUMP IS ASSIGNED IF HE FOOLISHLY FAILS TO PERFORM IT HE WILL BE THE NEXT KENNEDY
Read the whole story
· · · · · · · · · · · · · · · ·
Next Page of Stories
Loading...
Page 2
Next Page of Stories
Loading...
Page 3
adjective:

haughty
; comparative adjective:

haughtier
; superlative adjective:

haughtiest
arrogantly superior and disdainful.

"a look of haughty disdain"

synonyms:

proud

,

vain

,

arrogant

,

conceited

,

snobbish

,

stuck-up

,

pompous

,

self-important

,

superior

,

egotistical

,

supercilious

,

condescending

,

lofty

,

patronizing

,

smug

,

scornful

,

contemptuous

,

disdainful

,

overweening

,

overbearing

,

imperious

,

lordly

,

cavalier

,

high-handed

,

full of oneself,

above oneself

;

More
Knauss is an ancient German surname, known from at least 1515. The earliest people recorded with this name appear to be from southern Germany. The

meaning

is very unclear but may mean "haughty person." ... Melania Trump Germanised her name from "Melanija

Knavs

" to "Melania Knauss" as part of her modeling career.
Signed in as
Michael_Novakhov
Share this story on NewsBlur
Shared stories are on their way...
Next Page of Stories
Loading...
Page 4
Signed in as
Michael_Novakhov
Share this story on NewsBlur
Shared stories are on their way...
Express.co.uk
-
21 hours ago
Melania's parents are Amalija Knavs and
Viktor Knavs
, and the couple live together in Washington. She has one sister, Ines, who is reported to ...
Telegraph.co.uk
-
Aug 10, 2018
Meet
Viktor
and Amalija
Knavs
– parents of Melania Trump, America's first foreign-born First Lady – who became freshly-minted US citizens on ...
LJUBLJANA, Slovenia—One day not long ago Melania Trump's biographer in her Slovenian homeland, politician and author Igor Omerza, was ...
The Cheat Sheet
-
Jun 26, 2018
Viktor
and Amalija
Knavs
have another daughter together named Ines. Melania's older sister also resides in the states and before the Trumps ...
Washington Post
-
Feb 21, 2018
Immigration experts said
Viktor
and Amalija
Knavs
very likely relied on a family reunification process that President Trump has derided as ...
<a href="http://TownandCountrymag.com" rel="nofollow">TownandCountrymag.com</a>
-
May 2, 2018
Viktor
is also carrying a copy of a Trump magazine given out at the ... The oldest photograph of
Knavs
on Getty Images is from March 17, 2017, ...
President Donald Trump's in-laws are officially United States citizens.
Viktor
and Amalija
Knavs
, the parents of first lady Melania Trump, were ...
Chicago Tribune
-
Aug 10, 2018
Viktor
and Amalija
Knavs
were sponsored by their daughter, the first lady. A pair of Slovenians were foisted on the America we know and love.
Read the whole story
· · · ·
When Melania and Barron Trump
moved from Trump Tower in New York City to the White House
last summer, Melania's parents, Viktor Knavs, 74, and Amalija Knavs, 72, accompanied them on the trip. They've since become familiar faces in the nation's capital. Here's what you should know about them.
1
Amalija and Viktor Knavs were just sworn in as US citizens.
Getty Images
AFP Contributor
A lawyer for the First Lady's parents
confirmed
the Knavs took an oath of citizenship on Thursday, August 9, in New York City.
2
The Knavses appeared with their immigration attorney, Michael Wildes, at a federal building in New York City on May 2.
Earlier this year, the Slovenian couple and their lawyer, Michael Wildes, were spotted at a federal building in New York City, which houses offices for federal immigration officials who help process citizenship applications.
At the time, the attorney declined to comment on the substance of the meeting but did "confirm again that they're permanent residents of the United States and that they would like to keep their immigration matters private at this time."
3
They regularly travel with the first family.
AP
Pablo Martinez Monsivais
Advertisement - Continue Reading Below
Advertisement - Continue Reading Below
4
They're been on their way to becoming American citizens for some time.
MANDEL NGAN/AFP/Getty Images
The Knavses are now legal permanent residents of the United States and are
living in the county on green cards
, Wildes told the
Washington Post
in February
.
At the time, they were reportedly awaiting the scheduling of their swearing-in ceremony.
5
They may or may not be living in the White House.
Barron is very close to grandparents, with whom he reportedly speaks Slovenian, and
Politico
described them as "hyperinvolved" in his life
. While
Politico
also reported last year that Melania's parents would "become more familiar figures around the White House"—much the way Michelle Obama's mother Marian Robinson did when she moved into the presidential mansion—a White House spokeswoman said she could not confirm the outlet's claim, writing in an e-mail, "We don't comment on the first lady's parents, as they are private citizens and we want to respect that."
Viktor and Amalija Knavs are pictured far left with the rest of the Trump family on stage at the Republican National Convention.
6
They attend events there regularly.
Viktor and Amalija Knavs sat in the front row, next to Ivanka Trump and Jared Kushner, at the National Thanksgiving Turkey Pardoning Ceremony in the Rose Garden on November 21, 2017. They traveled to Mar-a-Lago with the first family to celebrating Thanksgiving, too.
Advertisement - Continue Reading Below
Advertisement - Continue Reading Below
7
Until recently, they split their time between Trump Tower, Mar-a-Lago, and Bedminster.
If Melania's parents have in fact moved to Washington, D.C., it would be in keeping with the pattern they've followed since their daughter married Donald Trump. They reportedly live in Trump Tower in Manhattan, and are frequent fixtures at Mar-a-Lago, a member of the club told me.
8
They maintain close ties to Sevnica, their hometown in Slovenia.
The first lady was born in Sevnica, a small town with about 5,000 residents that's an hour's drive from Ljubljana, the Slovenian capital. During Melania's childhood, Slovenia was known as Yugoslavia and was under the rule of Communist President Josip Tito. The Knavses reportedly "still own their house [in Sevnica] and visit two or three times a year," according to
GQ
.
9
Viktor and Amalija met in Sevnica in 1966.
At the time, Viktor was working as the chauffeur for the mayor of a nearby town and Amalija was a pattern-maker at a children's clothing factory. They are shown here in 1967, according to the caption
posted by the first lady's sister, Ines
.
Advertisement - Continue Reading Below
Advertisement - Continue Reading Below
10
They didn't start in the penthouse.
The couple lived in a two-bedroom apartment in Sevnica.
11
Their prospects improved.
After his chauffeur job, Viktor became a
traveling salesman for a state-owned car company
. "In contrast to the privations that so many suffered in Communist times, the Knavses lived well,"
GQ
reports. While Viktor was reportedly a
card-carrying member
of the
Sevnica Communist Party
, Trump campaign spokeswoman Hope Hicks told the
New York Times
last year that Knavs had never been an "active member" of the party. He amassed a collection of Mercedes sedans and a "coveted" Maserati, and
GQ
describes Amalija as "always impeccably dressed and perfectly coiffed," even when "times were lean" under Communist rule.
12
Viktor is 2 years older than his son-in-law Donald.
Born in 1944, Viktor is 73 years old. Amaljia is 71.
Advertisement - Continue Reading Below
Advertisement - Continue Reading Below
13
Victor and Amalija have 2 daughters.
Photo by Lucien Capehart Photography, Inc/Getty Images
The Knavses's first daughter, Ines
, is about a year older than the first lady. The sisters are shown here at
Mar-a-Lago
with Palm Beach philanthropist Audrey Gruss. They changed their last name from Knavs to its German form, Knauss.
14
Donald Trump has only visited his wife's native country once.
"I was there about 13 minutes," he
told Larry King in 2005
of the July 2002 trip to meet Viktor and Amalija. According to the
New Yorker
, the couple landed on Trump's Boeing 727 in Ljubljana at 8 p.m. and drove to dinner with the Knavses at the Grand Hotel Toplice on Lake Bled, where they ate onion escalope with pan-fried potatoes, and forest blueberries, and Melania interpreted. On the way out, Trump reportedly asked Viktor, "Is this place for sale?" The mogul was "back at the airport before midnight."
15
Amalija and Viktor made their first trip to America in February 2004.
Getty Images
Photo by Stephen Lovekin/FilmMagic
The couple visited New York City and Mar-a-Lago, where Trump may have asked for their blessing to marry their daughter; he proposed at the
Costume Institute Gala at the Met
that April. Here, Amalija is pictured with Melania at a Zac Posen fashion show in New York on February 12, 2004.
Advertisement - Continue Reading Below
Read the whole story
· · · · · ·
Next Page of Stories
Loading...
Page 5
Next Page of Stories
Loading...
Page 6