"It's clearly made for media coverage," Dr. Bjørgo said. - NYTimes - 8:12 AM 3/16/2019
Get link

Facebook

Twitter

Pinterest

Email

Other Apps
"It's clearly made for media coverage," Dr. Bjørgo said.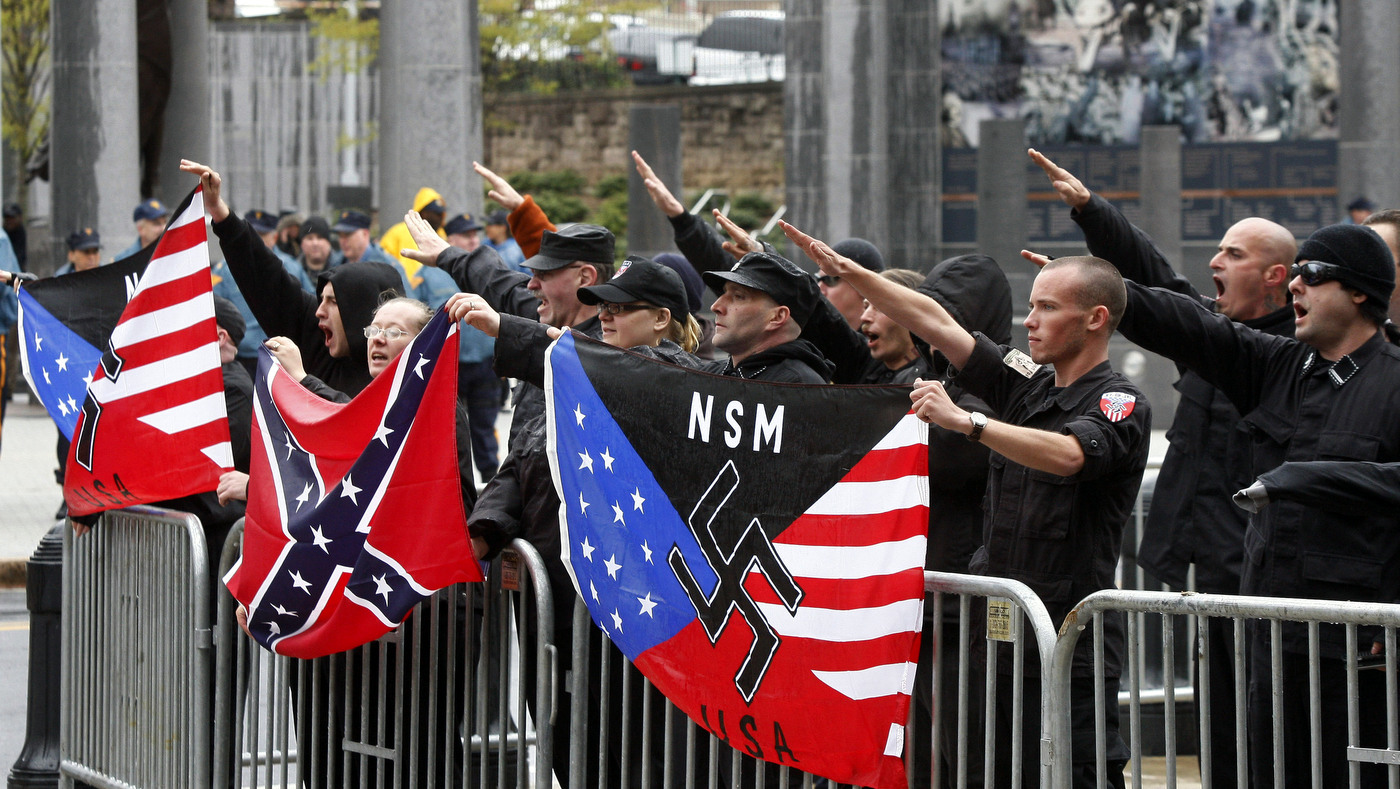 The massacre of 49 people in New Zealand on Friday highlights the contagious ways in which extreme right ideology and violence have spread in the 21st century — even to a country that had not experienced a mass shooting for more than two decades, and which is rarely associated with the extreme right.
New Zealand
may be thousands of miles from Europe or the United States, but videos of the killer show that he was deeply entrenched in the global far right, a man familiar with the iconography, in-jokes and shibboleths of different extremist groups from across Europe, Australia and North America, as well as a native of the extreme-right ecosystem online.
A manifesto linked to the accused killer, released through his social media account on the morning of the massacre, suggests its author considered himself a disciple and comrade of white supremacist killers. The suspect, identified in court papers as
Brenton Harrison Tarrant
of Australia, also hailed President Trump, mocking his leadership skills but calling him "a symbol of renewed white identity and common purpose."
Mr. Tarrant was charged on Saturday with murder in connection with the killings.
The author was particularly influenced by the ideas and methods of
Anders Breivik
, the far-right Norwegian terrorist who murdered 77 people in 2011, and whose own rambling 1,518-page manifesto inspired several copycat extremists — including, according to the authorities, Christopher Hasson, the Coast Guard lieutenant facing federal charges for planning a domestic terrorist attack patterned after Breivik.
Indeed, the manifesto was a Who's Who of white supremacist killers. The author took inspiration from
Dylann Roof
, the white supremacist who killed nine African Americans in a church in South Carolina in 2015, as well as with Luca Traini, Anton Lundin Pettersson and Darren Osborne, all of whom carried out racist attacks in Europe in recent years.
His clothes and weapons were also carefully curated. He wore a patch with an emblem used by numerous neo-Nazi groups across the world, including in Australia. Scrawled on his rifle was a white nationalist credo popularized by the American domestic terrorist and neo-Nazi David Lane. On his flak jacket was a symbol commonly used by the Azov Battalion, a Ukrainian neo-Nazi paramilitary organization.
And as he live-streamed a video from his car, he played a song devoted to Radovan Karadzic, a Bosnian Serb responsible for the deaths of thousands of Bosnian Muslims and Croats during an ethnic war in the Balkans in the 1990s.
The ubiquity of social media, as well as the accessibility of websites such as 4chan and 8chan where the extreme-right congregate online, allowed him to immerse himself easily in extremist conversation, said
Matthew Feldman
, director of the Center for Analysis of the Radical Right, a Britain-based research group.
"People who read this stuff are just as likely to be in New Zealand, Norway or Canada as they are in America," Mr. Feldman said. "The internet is borderless. Not only is it borderless, but places like 4chan were built for right-wing extremists. You have anonymity if you wish it, and these posts of incitement aren't going to be taken down immediately."
But if the manifesto highlights the spread of extremism throughout the deep recesses of the internet, it also shows how extremist discourse and tropes have seeped into mainstream politics and media.
Mr. Trump, who condemned the attacks, has frequently made racist remarks, enacted policies against immigrants and Muslims, and
courted white nationalists
, whom he has said include "some very fine people."
On Friday, Mr. Trump called the New Zealand killings a "horrible disgraceful thing." Asked by reporters if he saw white nationalism as a rising threat around the world, Mr. Trump said he did not.
"I think it's a small group of people that have very, very serious problems, I guess," Mr. Trump said. "If you look what happened in New Zealand, perhaps that's the case. I don't know enough about it yet."
The primary goal of the manifesto's author was to prevent Muslims and non-whites from taking over Western society, calling on white-majority countries to "crush immigration," deport non-whites and have more children to stop the decline of white populations.
"Remove the invaders," the manifesto read. "Retake Europe."
These goals find echoes in the angry rhetoric of several mainstream politicians in Europe, including the Italian interior minister, Matteo Salvini, and Viktor Orban, the prime minister of Hungary.
Mr. Orban has condemned the concept of a multiethnic society, repeatedly presented himself as a defender of Christian Europe against perceived Islamic invaders, and implemented policies that encourage Hungarian mothers to
have more children
.
On Friday, just hours after the Christchurch shooting, Mr. Orban returned to these themes in a major speech in which he made no mention of the massacre in New Zealand.
"Without Christian culture, there will be no freedom in Europe,"
he said
. "If we don't protect our Christian culture, we lose Europe."
Though its membership is currently under debate, Mr. Orban's party is part of a Europe-wide alliance of nominally center-right political parties, whose members include Chancellor Angela Merkel of Germany and President Jean-Claude Juncker of the European Commission.
"The ideas expressed in this manifesto are pretty widely shared beyond the really fanatic fringe — in not just the far-right but also the mainstream," said
Tore Bjørgo
, director of the Center for Research on Extremism at the University of Oslo. "But there are very few" — outside the extreme fringes of the extreme-right — "who would take it one step further and try to start a race war."
The killer's ability to livestream the attack via his own social media channels — which led to the dissemination of the video and manifesto across YouTube, Facebook and several mainstream media outlets — also highlights how the far-right has harnessed the reach of major media and technology companies, even as it continues to spread its message through the dark corners of obscure internet sites.
By broadcasting his atrocity himself, the killer was able to both circumvent the traditional gatekeepers of news coverage, while also encouraging those same gatekeepers to subsequently regurgitate some of his footage and even unwittingly amplify his ideas to millions more potential imitators than he might otherwise have reached.
"It's clearly made for media coverage," Dr. Bjørgo said.
And by writing most of the manifesto in a question-and-answer format, its author had clearly — and correctly — expected it to be picked up and distributed by mainstream media networks, amplifying his ideas further than ever.
"One of the sickest and most upsetting parts of this for me is that the killings, the actual terrorist attacks, are forms of propaganda for the statements," said Mr. Feldman of the Center for Analysis of the Radical Right. "They draw attentions to their statements through their actions."
That leaves media organizations in an ethical bind, Mr. Feldman said.
"The coverage will be wall-to-wall today," he said, "and tomorrow it will set someone else off."
Read the whole story
· · · · ·
Read the whole story
· · · ·
New Zealand shooting highlights problems of white extremism
Next Page of Stories
Loading...
Page 2
Next Page of Stories
Loading...
Page 3
Next Page of Stories
Loading...
Page 4
"There were two other firearms in the vehicle that the offender was in and it absolutely was his intention to continue with his attack," New Zealand Prime Minister Jacinda Ardern said.
At least 49 people were killed and dozens injured in an unprecedented attack that has shocked the nation and the world. The suspect, Brenton Harrison Tarrant, has been charged with one count of murder but officials have said additional charges are forthcoming.
Nearly a day after the shootings, Tarrant, 28, appeared before a Christchurch district judge. He was handcuffed and was wearing a white prison jumpsuit when he quietly walked into the courtroom.
He was remanded in custody and is set to reappear in court April 5.
Authorities implemented more security measures. The courtroom was closed to the public, the name of the victim was withheld by authorities and a judge ruled that pictures of the suspect in court must have his face blurred.
The attack, which was apparently broadcast live for a time on social media, is the biggest massacre in New Zealand's history. Ardern labeled the carnage a terrorist attack and has vowed to change the country's gun laws as a result.
Police presence in Christchurch and around the country was heightened while families arrived to streets near the mosques with tributes for the victims.
"This attack has been an enormous shock for all New Zealanders, and I am aware that there is a real sense of fear and concern for personal safety, particularly among our Muslim communities," New Zealand police commissioner Mike Bush said.
In addition to the 49 killed, authorities said 48 people were wounded, many of them seriously. Some of the injured were young children with gunshot wounds.
Suspect's family assisting police
The suspect, who is an Australian citizen, was living in the southern city of Dunedin at the time of the attack, Prime Minister Jacinda Ardern said. Dunedin is about 225 miles from Christchurch.
A police spokesperson in New South Wales said Tarrant's family in Australia have been "assisting and cooperating" with authorities.
Ardern said the suspect traveled around the world and was in New Zealand sporadically. He had no criminal history in New Zealand or Australia, and had not drawn the attention of the intelligence community for extremist views.
Tarrant was one of three people arrested in connection with the shootings. The other two remain in custody but their role in the shootings remains unclear. None of them had been on any security watch lists prior to the attack, officials said.
Police said they were not searching for any other suspects but stressed the investigation remained fluid.
When asked about whether the same person carried both shootings, Bush said officials were not aware of anything that would contradict that suggestion.
A fourth person who had been taken into custody was later determined to be an armed bystander who wanted to help police.
Prime Minister vows to change gun laws
As Ardern revealed deatails about the suspect's weapons and his background, she promised changes to the country's gun laws.
The shooter, who had a gun license acquired in November 2017, carried out the killings with two semi-automatic weapons, two shotguns and a lever-action firearm, Ardern said.
"While work is being done as to the chain of events that lead to both the holding of this gun license and the possession of these weapons, I can tell you one thing right now -- our gun laws will change," Ardern told reporters on Saturday.
"It's the time for change," said Ardern, who had earlier called Friday one of her country's "darkest days" and described the suspects as holding "extremist views" that have no place in New Zealand or the world.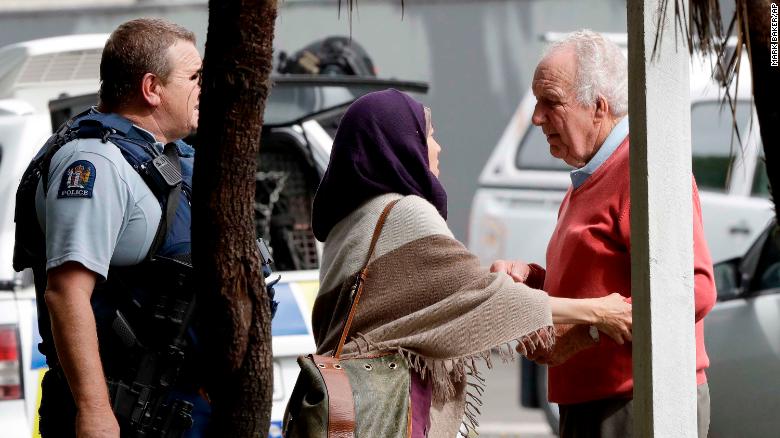 Police escort people away from outside a mosque in central Christchurch after the shootings.
The Prime Minister was traveling from Wellington to Christchurch on Saturday alongside other politicians, including the opposition leader.
"As is the entire nation, we are all unified in grieving together," she told reporters.
Bush, the police commissioner, said authorities were investigating the suspects' ties to shootings that occurred as Muslims convened for Friday prayers, the busiest time for many mosques around the world.
Australian Prime Minister Scott Morrison called the massacre the work of an "extremist right-wing, violent terrorist."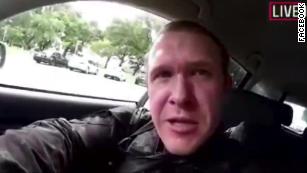 The suspected New Zealand shooter livestreamed video of the attack, starting with the drive through Christchurch. At one point, he turns the camera around.
The suspected shooter livestreamed video of the attack and posted a lengthy manifesto online under the name of Brenton Tarrant. In the manifesto, he identifies himself as a white man, born in Australia, and lists the white nationalists who have inspired him.
Ardern urged the public not to share the "distressing" 17-minute video.
Attack apparently broadcast live on social media
Authorities declined to discuss potential motives for the attack. But the 87-page manifesto posted on social media just before the shooting began was filled with anti-immigrant, anti-Muslim screeds and explanations for an attack. It was not signed.
Police said they were aware of a video shared online and broadcast live during the attack, which apparently showed a gunman walking into a mosque and opening fire. "We would strongly urge that the (video) link not be shared. We are working to have any footage removed," New Zealand police said.
The brazen nature of the broadcast, and the apparent failure of tech companies to prevent its proliferation online,
raised concerns
. In New Zealand,
commentators also worried
that the horror would sow deep divisions in a society that has largely avoided the polarizations that have spread elsewhere.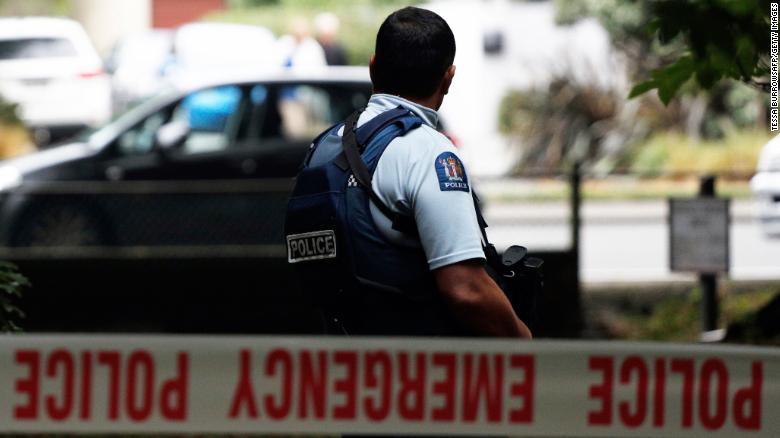 A police officer secures the area in front of the Masjid al Noor mosque.
Facebook New Zealand spokesperson Mia Garlick said in a statement that the footage was quickly taken down. "New Zealand Police alerted us to a video on Facebook shortly after the livestream commenced and we removed both the shooter's Facebook account and the video. We're also removing any praise or support for the crime and the shooter or shooters as soon as we're aware," she said.
CNN has not been able to independently confirm any information about the attackers or the the alleged video at this stage.
A spokesperson for Google and YouTube called the shooting a "terrible tragedy," adding in a statement: "Shocking, violent and graphic content has no place on our platforms, and is removed as soon as we become aware of it. As with any major tragedy, we will work cooperatively with the authorities."
Twitter removed an account it believed was linked to the main suspect and was working to keep the video of the incident off its platform, a spokesperson said. "We are deeply saddened by the shootings in Christchurch today," Twitter said in a statement. "Twitter has rigorous processes and a dedicated team in place for managing exigent and emergency situations such as this. We also cooperate with law enforcement to facilitate their investigations as required."
Australian Prime Minister Morrison said he asked for flags to be flown at half-staff out of respect for those killed. "Australians stand with all New Zealanders today during this dark time where hate and violence has stolen their peace and innocence. Kia kaha (stay strong)," Morrison tweeted earlier, using a Maori phrase.
US President Donald Trump said in a tweet: "My warmest sympathy and best wishes goes out to the people of New Zealand after the horrible massacre in the Mosques. 49 innocent people have so senselessly died, with so many more seriously injured. The U.S. stands by New Zealand for anything we can."
IEDs found in vehicle
Armed officers were deployed after first receiving reports of the shootings at 1:40 p.m. local time, when mosques were packed for Friday prayers. Police said 41 people were killed at the al Noor mosque on Deans Avenue. Seven died at the Linwood mosque on Linwood Avenue, and one died in the hospital from injuries.
Two improvised explosive devices were found in a vehicle connected to the attack. A number of weapons were also recovered at both locations.
The area was placed on lockdown, and police urged Christchurch residents to stay indoors and monitor the police website and social media. Worshipers were urged to stay away from all mosques in New Zealand.
Later in the day, authorities evacuated properties close to a "location of interest" in Dunedin.
Victims hail from across the globe
Much remains unknown about the victims, but they appear to have hailed from around the world. Speaking to reporters, Ardern said some of "those involved" were from Pakistan, Turkey, Saudi Arabia, Bangladesh, Indonesia and Malaysia.
At least two Jordanian citizens were killed and five others wounded in the shootings, according to a statement from Jordan's Foreign Ministry on Friday.
A 5-year-old girl was critically wounded and had surgery but remained in serious condition, her uncle, Sabri al-Daraghmeh, told Jordan's al-Mamlaka TV. She was shot in the face, the abdomen and the leg.
Al-Daraghmeh told the station that his brother was also wounded and remained in stable condition. He was shot in the abdomen and the leg.
Four Pakistani citizens were also wounded, Pakistani Foreign Ministry spokesman Mohammad Faisal said Friday on his official Twitter account.
Five other Pakistanis citizens were still unaccounted for, he said.
Gunman opened fire 'for 10 to 15 minutes'
One worshiper, Mohan Ibn Ibrahim, said he was inside one of the mosques when the shooting began. He said he heard the gunman "continuously shooting for 10 to 15 minutes."
"It's a big mosque and there were more than 200 people inside. The gunmen came from the back side. Gunshots went on for a long time. We had to jump the wall to escape. I saw lots of broken glass and bricks on the backside of the mosque," he said.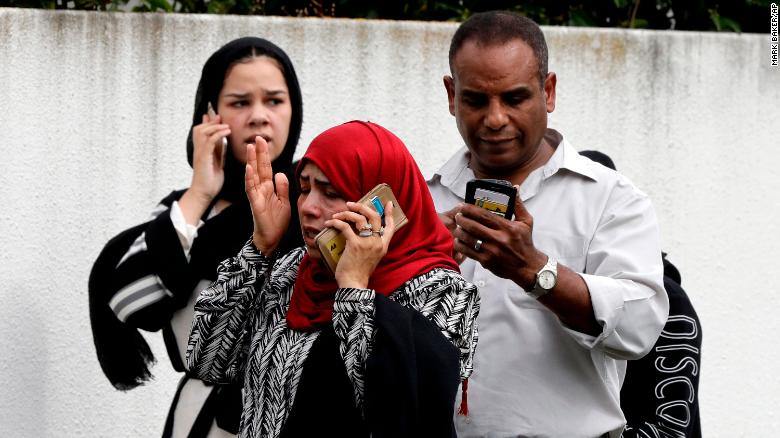 People wait outside a mosque in central Christchurch, New Zealand, on Friday.
"I came to the street, I saw one person got shot on his chest," he said, adding that the ambulance and police then arrived on the scene. He said that he had a friend in another mosque in the area who told him a gunman had opened fire there as well and five people were dead.
"I could not contact two of my friends who are in the mosque as well," he said.
Another witness, who did not want to be named, said he was driving and saw a man with a "with his 3- or 4-year-old daughter" who had been shot in the back. "He was screaming, like, get her to the hospital," he said. "I just got my truck and loaded up him, and his daughter, and this other guy had been shot in the leg, and took them to the hospital," he said.
One man outside the mosque said that he prayed that the gunman would "run out of bullets."
"I was thinking that he must run out bullets you know, so what I did was basically waiting and praying to God, oh God please let this guy run out of bullets," he said. He said a man told him to remain still and then the gunman shot the man "straight in the chest."
CNN's Sophia Saifi, Jomana Karadsheh, Yazhou Sun, Paul P. Murphy and Eric Cheung, and journalist Matthew McKew, contributed to this report.
Read the whole story
· · · · · · · · · · · ·
Brent
is an
Old English
place name and surname. The place name can be from
Celtic
words meaning "holy one" (if it refers to the
River Brent
), or "high place", literally, "from a steep hill" (if it refers to the villages in
Somerset
and
Devon, England
) (Mills 1991). The surname often indicates that one's ancestors lived in a place called Brent.
Brent has also become a regularly used given name in some countries, being among the thousand most common names for boys born in the United States since 1933.
[1]
When used as a given name today, Brent is sometimes a short form of
Brenton
, but this was probably not the original inspiration for Brent's use as a given name, since Brenton's own regular use as a first name came many years after Brent was established in that role.
[2]
---
A gunman, dressed in tactical gear, appeared to livestream video of the shooting on social media, according to New Zealand police.
At least 49 people were killed and dozens more injured in mass shootings at two mosques in Christchurch, New Zealand, Friday.
At least one gunman carried out what is now the deadliest shooting in New Zealand history.
"It's something that we never expected to have happen here," Christchurch MP Gerry Brownlee told "Good Morning America." "We're a relatively small population, and while we are ethnically quite diverse, we live very peaceable lives. And this, as many have seen, has shattered our innocence."
---
Several suspects are in custody after 49 people were shot and killed in attacks on mosques in Christchurch, New Zealand. CBS News law enforcement analyst Paul Viollis and Nadia Tolich of New Zealand's News Talk ZB join CBSN with the latest on the response.
---
A manifesto posted online that may have been written by the New Zealand attacker called for violence against immigrants. CBS News senior national security analyst and former White House Homeland Security adviser Fran Townsend joined CBSN with more on violent white nationalist ideologies and some words of caution about the manifesto.
---
A lengthy manifesto posted online appears to be the work of the man who attacked Muslim mosques in New Zealand, killing 49 people. CBS News correspondent Nikki Battiste joins CBSN to discuss what it contains.
Get the latest news and best in original reporting from CBS News delivered to your inbox. Subscribe to newsletters HERE:
http://cbsn.ws/1RqHw7T
Get new episodes of shows you love across devices the next day, stream CBSN and local news live, and watch full seasons of CBS fan favorites like Star Trek Discovery anytime, anywhere with CBS All Access. Try it free!
http://bit.ly/1OQA29B
---
CBSN is the first digital streaming news network that will allow Internet-connected consumers to watch live, anchored news coverage on their connected TV and other devices. At launch, the network is available 24/7 and makes all of the resources of CBS News available directly on digital platforms with live, anchored coverage 15 hours each weekday. CBSN. Always On.
Next Page of Stories
Loading...
Page 5
Get link

Facebook

Twitter

Pinterest

Email

Other Apps