5:31 AM 4/2/2019 - Trump attacks Blumenthal | Gerhard Schroeder and The New Abwehr Hypothesis of The Operation Trump
Get link

Facebook

Twitter

Pinterest

Email

Other Apps


>> Mike Nova's Shared NewsLinks Review In Brief
-
Michael Novakhov - SharedNewsLinks℠
Read the whole story
· · · · · · · · · · · · · · · · · · · · · · · · · · · · · · · · · ·
Adagios: Best Relaxing Classical Music
Last week, Richard Blumenthal LAW '73, the senior senator from Connecticut, became one of the latest recipients of U.S. President Donald Trump's attacks on Democratic politicians.
In a March 25 statement to all television producers, Trump campaign director of communications Tim Murtaugh warned media outlets about the "credibility of certain guests," including Blumenthal, three Democratic representatives, Democratic National Committee Chairman Tom Perez and former CIA Director John Brennan. The statement came on the heels of Special Counsel Robert Mueller's report to Attorney General William Barr, which found no evidence of collusion between Trump and the Russian government during the 2016 presidential election. Murtaugh cited comments that these Democrats had made in television appearances tying Trump's campaign to Russian election interference as proof that they are untrustworthy guests.
"The issuance of these definitive findings comes after two years of Democrat leaders and others lying to the American people by vigorously and repeatedly claiming there was evidence of Collusion," Murtaugh said in the statement.
The statement urged television networks to ask themselves if the guests mentioned should appear on television in the future in light of "the outrageous and unsupported claims made in the past." It also recommended that the networks replay prior footage of the speakers tying Trump to Russian collusion and confront them about their "outlandish, false claims."
Murtaugh quoted specific comments from Democratic politicians expressing confidence that collusion occurred.
"The evidence is pretty clear that there was collusion between the Trump campaign and the Russians," Blumenthal said on MSNBC in October 2018. Blumenthal has long been one of the president's most vocal critics.
Blumenthal's deputy press secretary, Courtney Chandler, did not respond to request for comment.
The full Mueller report has not yet been made public. Last week, Barr released a four-page summary of the more than 300-page report concluding that the investigation "did not find that the Trump campaign or anyone associated with it conspired or coordinated with Russia in its efforts to influence the 2016 U.S. presidential election."
According to Barr's summary, Mueller employed 19 lawyers and worked with a team of around 40 FBI agents and other intelligence personnel to issue more than 2,800 subpoenas, execute more than 500 search warrants, make 13 requests to foreign governments for evidence and interview approximately 500 witnesses. The investigation resulted in indictments or guilty pleas from 34 people and three companies, including for former Trump campaign foreign policy adviser George Papadopoulos, former Trump lawyer Michael Cohen and former Trump campaign chair Paul Manafort. The report, however, did not exonerate Trump. Many Democratic politicians, including presidential hopefuls, have called for the report to be released in full. Blumenthal and fellow Connecticut senator Chris Murphy were among those who called for the release of the full report.
"We cannot reach final conclusions from Barr's brazenly devious letter," Blumenthal tweeted on March 28. "Full disclosure of the Mueller report is of utmost urgency."
The senator also called for a "legal justification" of any redactions that the Attorney General makes before releasing the report to the public and for a full, unredacted version to be distributed to members of Congress.
Yale College Democrats Communications Director Eli Sabin '22 told the News that the Dems support the calls for releasing the full report, especially in light of the many falsehoods Trump has spread.
"The request from the Trump campaign is ridiculous, especially considering that President Trump is a serial liar," wrote Sabin in an email to the News. "It is very clear that the President and members of his campaign team behaved unethically in their business dealings and contacts with Russia, and we deserve to know the extent and details of that unethical conduct."
Murphy also called for more action against Russia during a March 27 nomination hearing for Keith Krach, Trump's nominee for the position of Under Secretary of State for Economic Growth, Energy and the Environment. He emphasized the urgency of making Eastern European countries less reliant on Russian energy sources, and said that the country could "do more" to promote energy independence in the region.
This is not the first time that the two Connecticut senators have come under criticism from the president. Trump has repeatedly referred to Blumenthal as "Da Nang Dick" in reference to the senator's past allusions to his service in Vietnam.
"I have now spent more time in Vietnam than Da Nang Dick Blumenthal, the third rate Senator from Connecticut (how is Connecticut doing?). His war stories of his heroism in Vietnam were a total fraud – he was never even there. We talked about it today with Vietnamese leaders!" Trump tweeted on Feb. 26.
Blumenthal — who served in the Marine Corps Reservists from 1970 to 1976 but never went to Vietnam — admitted that his past statements were misleading after a bombshell New York Times report revealed that he did not serve on the ground in Vietnam in May 2017. The president himself received five draft deferments during the war, including a medical exemption due to his claim that he suffered bone spurs in his heels.
Mueller's investigation began in May 2017 and ended on March 22.
Nathalie Bussemaker
| <a href="mailto:nathalie.bussemaker@yale.edu">nathalie.bussemaker@yale.edu</a>
Read the whole story
· · · · · ·
Next Page of Stories
Loading...
Page 2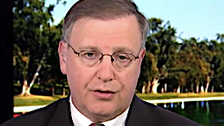 Michael Novakhov - SharedNewsLinks℠
Trump News TV - Page - All Trump News Videos - In 25 Posts
-
Trump - from Huffington Post
-
-
Trump Investigations News In 25 Posts -
3:24 AM 4/2/2019
-
Read the whole story
· · · · · · ·
A F-35 fighter jet is seen as Turkey takes delivery of its first F-35 fighter jet with a ceremony at the Lockheed Martin in Forth Worth, Texas, United States on June 21, 2018.
Atilgan Ozdil | Anadolu Agency | Getty Images
The
United States
has halted delivery of equipment related to the stealthy F-35 fighter aircraft to
Turkey
, marking the first concrete U.S. step to block delivery of the jet to the NATO ally in light of Ankara's planned purchase of a
Russian
missile defense system.
U.S. officials told their Turkish counterparts they will not receive further shipments of F-35 related equipment needed to prepare for the arrival of the stealthy jet, two sources familiar with the situation told Reuters on Monday.
The Pentagon confirmed the Reuters report that the equipment delivery had been stopped.
"Pending an unequivocal Turkish decision to forgo delivery of the S-400, deliveries and activities associated with the stand-up of Turkey's F-35 operational capability have been suspended," Air Force Lieutenant Colonel Mike Andrews, a Defense Department spokesman, said in a statement.
Turkish President Tayyip Erdogan has refused to back down from Ankara's planned purchase of a Russian S-400 missile defense system that the United States has said would compromise the security of F-35 aircraft.
The disagreement over the F-35 is the latest of a series of diplomatic disputes between the United States and Turkey including Turkish demands that the United States extradite Islamic cleric Fethullah Gulen, differences over
Middle East
policy and the war in
Syria
, and sanctions on
Iran
.
The sources, who spoke on condition of anonymity, told Reuters the next shipment of training equipment, and all subsequent shipments of F-35 related material, had been canceled. The aircraft is built by
Lockheed Martin Corp
.
A Pentagon official had told Reuters in March that the United States had a number of items it could withhold in order to send Turkey a signal that the United States was serious about Ankara dropping its ambition to own the S-400.
Turkish officials in Ankara were not immediately available for comment. Turkey has said it will take delivery of the S-400s in July.
NATO summit
The U.S. decision on the F-35s was expected to complicate Turkish Foreign Minister Mevlut Cavusoglu's visit to
Washington
this week for a NATO summit. On Sunday, Erdogan suffered one of his biggest electoral losses in decades in local elections.
"Certain Russian weapon systems are seen as inherently threatening to the United States regardless of who is operating them and for what purpose," Andrew Hunter, a fellow at the Center for Strategic and International Studies, said.
"Because Turkey is not just an F-35 purchaser, but an industrial partner, blocking delivery of these systems represents a major escalation by the United States as it threatens to impose serious costs on both sides," Hunter said.
Reuters reported last week that Washington was exploring whether it could remove Turkey from production of the F-35. Turkey makes parts of the fuselage, landing gear and cockpit displays. Sources familiar with the F-35′s intricate worldwide production process and U.S. thinking on the issue last week said Turkey's role can be replaced.
The United States and other NATO allies that own F-35s fear the radar on the Russian S-400 missile system will learn how to spot and track the jet, making it less able to evade Russian weapons.
In an attempt to persuade Turkey to drop its plans to buy the S-400, the United States offered the pricier American-made Patriot anti-missile system in a discounted deal that expired at the end of March. Turkey has shown interest in the Patriot system, but not at the expense of abandoning the S-400.
Turkey has engaged with U.S. negotiators in recent days about buying the Patriot system, a person familiar with the matter said on condition of anonymity. The system is made by
Raytheon Co
.
Turkish Defense Minister Hulusi Akar in March said that despite some issues, Turkish pilots were continuing their training at an air base in Arizona on the F-35, each of which costs $90 million, and that Ankara was expecting the aircraft to arrive in Turkey in November.
By halting jet deliveries, the Pentagon could subsequently delay training of Turkish pilots. Two additional jets are scheduled to arrive in Arizona in April and a significant delay could impact Turkey's November target date for operations.
U.S. lawmakers also have expressed alarm over Turkey's planned purchase of the Russian system. Four U.S. senators last week introduced a bipartisan bill that would prohibit the transfer of F-35s to Turkey until the U.S. government certifies that Ankara will not take delivery of the S-400 system.
Following news of the halt, U.S. Senator Jeanne Shaheen, one of the bill sponsors, said she was glad to hear the administration was "to delay the transfer of F-35 equipment to Turkey to help ensure U.S. military technology and capabilities cannot fall into the hands of the Kremlin."
Read the whole story
· · · ·
Next Page of Stories
Loading...
Page 3
Get link

Facebook

Twitter

Pinterest

Email

Other Apps