5:51 AM 6/14/2019 - Little Ugly Fatso Maggot! Fe-e-e!
Get link

Facebook

Twitter

Pinterest

Email

Other Apps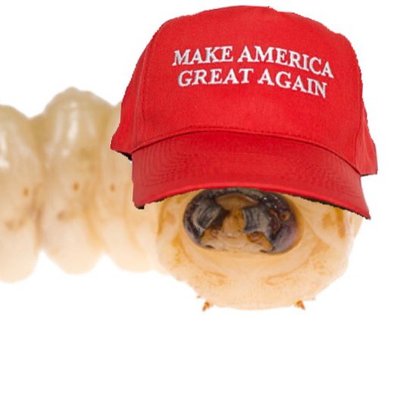 Little Ugly Fatso Maggot! Fe-e-e!
Next Page of Stories
Loading...
Page 2
Read the whole story
· · · · · · ·
Read the whole story
· · · · · · · ·
Iranian Supreme Leader Ayatollah Ali Khamenei (Screen Capture)
(<a href="http://CNSNews.com" rel="nofollow">CNSNews.com</a>) – Iranian Supreme Leader Ayatollah Ali Khamenei in a speech Wednesday berated President Donald Trump for withdrawing from the nuclear deal, but said that the Islamic Republic of Iran will be standing strong long after Trump's corpse is "worm food."
Khamenei said of Trump: "You will go to hell with your failures."
"A few days ago, Trump wrote a letter to the leaders of some Persian Gulf countries, to which we have access," Khamenei said in a speech addressing staff and students at a teacher-training university in Tehran.
"In the letter, he indicated that he spent $7 trillion on these countries, so they must adhere to his orders. Well, Trump, you have spent all this money to dominate Syria and Iraq, but you couldn't do it; you will go to hell with your failures."
"The same behavior existed in previous U.S. presidents. Yet, Iranian nation is persistent while former U.S. presidents passed away & IRI is still standing. This man's corpse will also be worm food while IRI stands strong."
Khamenei said Trump's announcement of withdrawal from the Joint Comprehensive Plan of Action (JCPOA) had included "shallow and lewd remarks" as well as "several lies."
"He threatened the Iranian government and people," he said. "I answer him, as a representative of the Iranian population: 'Donald Trump, you cannot lift one finger against us.'" (One translation of his remarks rendered the phrase as 'Like hell you will!")
Elsewhere in the speech the ayatollah revealed that he had wanted Iranian negotiators to secure President Obama's signature on the 2015 nuclear deal, but they failed to do so.
He had warned all along that the Americans could not be trusted, he said. "Now you can see for yourselves that my prediction is now a reality."
Similarly, Khamenei said Iran could not trust the three European Union members – Britain, France and Germany – which remain partners in the JCPOA, along with Russia and China.
He said if the Rouhani administration wants to reach an agreement with the E.U. trio to save the nuclear deal, it must come with guarantees – otherwise the Europeans would likely follow the U.S. and walk away.
And without guarantees, he pledged, "we won't stick to the nuclear agreement."
Khamenei dedicated the bulk of his speech, a translation of which was posted on an official website, to the United States.
"From day one, I said several times that the United States is not to be trusted. I said it publicly and privately," he said. "I said if you want to sign an agreement, first make sure that necessary guarantees are made."
"One of the conditions I mentioned was that the president of the United States has to sign it. Those in charge of the negotiations tried hard, but couldn't satisfy this condition."
(The JCPOA was not a treaty, and
was not formally signed
. The negotiating principals, including Secretary of State John Kerry, left souvenir signatures on the cover page.)
"We agreed on the nuclear agreement, but the animosities against Iran did not cease," Khamenei said. "Today, their concerns are about our presence in our own region and our missile program. Even if we agree to their terms, conflicts will not be resolved; they will start up with another issue."
The real reason for America's animosity, he said, was because before the 1979 Islamic revolution "had complete dominance over our country."
As a result of the revolution, however, the U.S. "hands were severed."
Khamenei said the Americans want to dominate the region and favor rulers "who dish out money to them and comply with their orders." He made clear he was referring in this instance to some countries in the Persian Gulf, whose leaders were being treated "like submissive slaves of the U.S."
The JCPOA offered Iran sanctions relief in return for significant restrictions – some of them with expiration dates – on its nuclear program.
Trump identified as major flaws the "sunset" clauses, under which key provisions expire after 10-15 years, inadequate inspection and verification measures, and the fact Iran's ballistic missile programs and other troubling behavior were not addressed.
Read the whole story
· · · ·
Russian President Vladimir Putin has dismissed two high-ranking police generals involved in the case against investigative journalist Ivan Golunov.
Major General Yuri Devyatkin, the head of the Interior Ministry's drug trafficking department, and Major General Andrei Puchkov, head of the Interior Ministry's Moscow department, were
dismissed
Thursday, according to a Kremlin decree.
Interior Minister Vladimir Kolokoltsev had requested that Putin dismiss the two generals after announcing that charges against Golunov had been dropped on Tuesday.
Golunov, an anti-corruption reporter with the Meduza news website, was detained and charged last week for large-scale drug trafficking in a case that drew mass outrage, with h
is defenders saying he had been targeted for his investigations through fabricated charges.
On Tuesday, the Interior Ministry dropped the case after a slew of evidence showed that the drugs could not have been Golunov's. Kolokoltsev said he had suspended the police officers involved pending an investigation, in addition to asking Putin to fire Devyatkin and Puchkov.
Next Page of Stories
Loading...
Page 3
Next Page of Stories
Loading...
Page 4
WASHINGTON — Secretary of State Mike Pompeo said Thursday that intelligence reviewed by American officials showed that Iran was responsible for attacks on two oil tankers in the Gulf of Oman, a critical waterway for the transit of much of the world's petroleum.
Mr. Pompeo did not present any evidence of Iran's involvement when announcing the findings at a news conference in Washington. The assertion is certain to fuel tensions between the Trump administration and Iranian leaders that have increased since early May, when the White House announced military movements in response to what American officials have said is a heightened threat from Iran.
Mr. Pompeo said the sabotage against the two tankers was only the latest in a series of recent violent acts by Iran.
"Taken as a whole, these unprovoked attacks present a clear threat to international peace and security," he said.
The rapid escalation of tensions in early May between the United States and Iran took place around the time that four tankers
were damaged by explosions
at the mouth of the Persian Gulf, near the Strait of Hormuz. The violence that
occurred in the same area
early Thursday morning, which forced crews to abandon ship and left one vessel ablaze, was similar to the incidents from May.
Mr. Pompeo and John R. Bolton, the national security adviser, both said in late May that Iran was responsible for those attacks, though neither have presented evidence. On May 30, Mr. Pompeo told reporters that he had seen evidence of Iranian involvement and asserted "these were efforts by the Iranians to raise the price of crude oil throughout the world."
Details of the incidents on Thursday have remained murky, as they have for the explosions in May.
Mr. Pompeo and Mr. Bolton have led the Trump administration in taking a hard stand on Iran. In May 2018, President Trump withdrew from a nuclear containment deal that the Obama administration and world powers reached with Iran in 2015. The United States reimposed harsh sanctions on Iran last November.
European allies have stayed in the nuclear deal and have urged Iran to do so, but President Hassan Rouhani said last month that Iran would start leaving parts of it, even though international agencies said Tehran had been abiding by all the terms until now.
Mr. Trump has said in recent weeks that he was open to negotiations with Iran, though he has made no real effort to start talks. He has also said he could take military action. In late May, he announced he was sending an additional 1,500 troops to the Middle East, though that was far less than what some top administration officials had requested.
Mr. Pompeo has made 12 demands of Iran that go far beyond the nuclear issues. In his talks, he has stressed
the need to roll back Iran's "expansionist foreign policy"
and tamp down the influence of the political and military groups in Arab nations that are supported by Iran. From his perspective, that includes Hezbollah in Lebanon, the Houthi rebels in Yemen and a constellation of armed groups in Iraq.
Wall Street Journal
-
3 hours ago
DUBAI—The
Trump
administration has concluded that
Iran is
...
Iran
has denied
responsibility
for any of the
attacks
, including Thursday's. ... No one claimed
responsibility
for last month's tanker
attacks in the Gulf of Oman
last month, though ... "
Today's attacks
appear to be part of a systematic
Iranian
effort to ...