6:57 AM 7/22/2019 - The Roundup Begins... Investigate the possible violations of the U.S. Immigration Laws and bring the criminal charges of Sex Trafficking against Donald Trump, Melania Knauss Trump, and Jeffrey Epstein The Pimp For The Rich, who sold Melania to Donald. For how much? Find it out! Melania was brought to the U.S. on "The Einstein Visa", which in fact was "The Epstein Visa"! #SendMelaniaBack!
Get link

Facebook

Twitter

Pinterest

Email

Other Apps
Last Update: 7.24.19
Are we really sure that she and her parents had nothing to do with any of the drug trafficking? They need to go. #sendmelaniaback
pic.twitter.com/PSTFAMld0t
Posted by
Bella74357753
on Sunday, July 14th, 2019 3:53pm
Retweeted by
mikenov
on Sunday, July 21st, 2019 6:28pm


43 likes, 31 retweets
____________________________________

The Roundup Begins...
The Roundup Begins... 6:57 AM 7/22/2019 - Investigate the possible violations of the U.S. Immigration Laws and bring the criminal charges of Sex Trafficking against Donald Trump, Melania Knauss Trump, and Jeffrey Epstein The Pimp For The Rich, who sold Melania to Donald. For how much? Find it out! Melania was brought to the U.S. on "The Einstein Visa", which in fact was "The Epstein Visa"!
Investigate the possible violations of the U.S. Immigration Laws and bring the criminal charges of Sex Trafficking against Donald Trump, Melania Knauss Trump, and Jeffrey Epstein The Pimp For The Rich, who sold Melania to Donald.
How? For how much? Go find it out! Go figure it out!
For how much? Ah, Donald?
How much did you pay for your Melania Delivery? $1M? $10 M? More? You should have given it to charity, you stupid fool!
Did you and your FBI cronies also arrange the investigations and the prosecutions of Epstein after this deal, to secure your hold on your trophy and possession, and to limit their communications?
Who paid for the private investigator of Epstein?
"
Fisten was hired to investigate the case by attorney Brad Edwards, who was suing Epstein in civil court on behalf of many of his accusers. Edwards wanted Fisten to dig deeper."
Who was behind Brad Edwards in financing the private detective for 10 years?
Who arranged the publications in the "Miami Herald"?
Does this story have anything to do with Chris Cline and his death in a helicopter crash just hours before Epstein's arrival from Paris to Teterboro airport?
Melania and Jeffrey were lovers, after all. He prepped her up for Donald. And Epstein counted on staying in the picture and continuing to manipulate her, for the ultimate benefit of those, whose agent he was, just like he did with the dozens of his other billionaire clients, whom he bugged, taped, and blackmailed also.
It looks like Jeffrey Epstein provided the most comprehensive, broad, and diverse package of services: tax-free investments, entertainment on one of his private Virgin Islands, and the blackmailing services, added for a spicy dash and market value. No wonder, his activities and his VIP clients tethered to him in so many intimate ways, were of the great interest to the various Intelligence Services, as was discussed on the Internet, along with the most intriguing question:
And I think, that Epstein employer and boss was the New Abwehr-Mob, which is confirmed by Epstein's very special relationship with the Deutsche Bank, closely resembling its relationship with Donald Trump: practically unlimited credit line in billions of dollars.
Another curious fact supporting the Epstein - New Abwehr-Mob thesis and hypothesis is his particular closeness with Ghislaine Maxwell, daughter of Robert Maxwell, both the very likely New Abwehr agents, posing as the Russian and Israeli agents for their covers, which apparently is quite the common tactic for the New Abwehr.
These are the questions, among many others of the similar kind, that should be asked of Mr. Mueller.


Donald Trump could not do anything in any project of his, without the FBI participation, overt, but mostly covert.
In fact, Donald Trump might be nothing less and nothing more, and nothing else, but The FBI Tool, used by the unofficial, secret, hidden but powerful FBI leadership to control and to rule this country.


SDNY should investigate Trump and all the related issues aggressively, decisively, and fast.
Presently, the Broidy-Manafort corrupt wing of the Republican Party, with the U.S. Arms sales to Saudi Arabia and UAE, and the alternative deals, appear to be the structure and the focus of the hypothetical, suspected conspiracy to influence the U.S. Elections, and to install the preferred candidate.
The overall strategy, design, and operational management were supplied the courtesy of the
New Abwehr-Mob
, as was postulated previously.
Jeffrey Epstein
appeares to play one of the key roles, along with
Broidy
and
Manafort
, in this putative conspiracy, and this role appears to be unique and multifaceted, from sex therapist, to money manager, to investment adviser, to the high class and the high wire act pimp, to the voyeur,
blackmailer, and finally, to the assumed "intelligence officer", agent, or asset. Quite a pungent bouquet.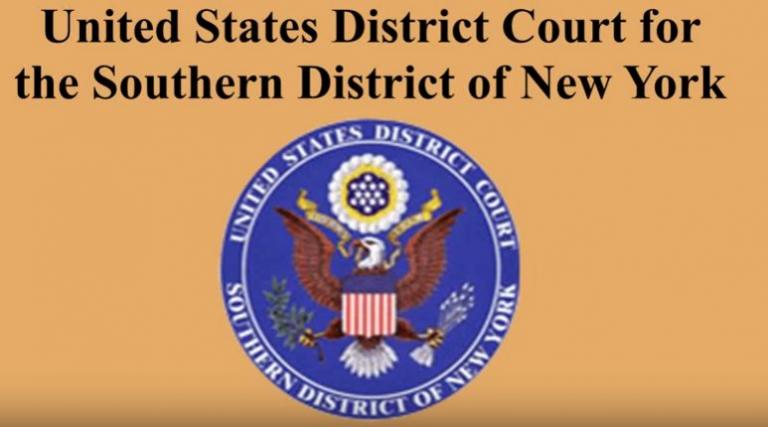 Next Page of Stories
Loading...
Page 2
WaPo's Robert Costa, former Chief of Staff at the CIA and Defense Department Jeremy Bash, former Assistant Director at the FBI Frank Figliuzzi, former federal prosecutor Glenn Kirschner, and MSNBC's Donny Deutsch on a deeper dive into the relationship between the president and sex offender Jeffrey Epstein, as we learn that the SDNY has concluded its investigation into Michael Cohen's campaign finance violations
July 17, 2019
Read the whole story
· · · · ·
With some even saying to "forget" about the Robert Mueller Russia investigation, press members said the Southern District of New York's investigation of the Trump organization was where the real threat to President Donald Trump was.
Last week, SDNY prosecutors
revealed
their investigation into hush money payments to women Michael Cohen claims to have made at Trump's direction had ended. Fox News reported
this meant
there are likely no charges to be filed against Trump or other members of the Trump Organization.
Recent Stories in Politics
CNN reported
it was a "significant victory" for Trump's family business:
The conclusion of federal prosecutors' investigation of the Trump company's role in the Cohen matter marks a significant victory for the President's family business, although it likely doesn't come as a complete surprise. There had been no contact between the Manhattan US Attorney's office and officials at the Trump Organization in more than five months, CNN reported Friday.
Yet this development could come as a surprise to pundits and reporters who believed, for instance, that "this is where it ends for this president."
So said MSNBC host Donny Deutsch in February about the SDNY's investigation. Deutsch also remarked that "what is going to destroy everything he ever built and his children is a 30-year dishonest criminal enterprise."
"Many analysts have said that the Manhattan office of the Justice Department, the Southern District of New York, poses the real threat to the president," MSNBC's Brian Williams said on March 26.
"Is there something there? If a prosecutor is looking at everything you ever did for 30 years, probably," MSNBC legal analyst Paul Butler said on March 18.
"You can see sort of the dominoes falling," former SDNY prosecutor Harry Sandick told CNN's Erin Burnett March 5 of the investigation into the Trump Organization.
MSNBC host Joe Scarborough said to "forget Mueller" and look at the SDNY, which was an "existential crisis" for Trump. CNN's Kate Bolduan and
New York Times
reporter Maggie Haberman said the investigation was of greater peril to Trump than Mueller's Russia probe, which
dominated the news
for nearly two years.
Other commentators like MSNBC's Nicolle Wallace, ABC's Sunny Hostin, and former Obama solicitor general Neal Katyal made similar pronouncements.
Trump has claimed to not be aware of Cohen's payments to Stormy Daniels and Karen McDougal, the women who say they had affairs with Trump and were paid off in order to not hurt his 2016 election chances. Trump has also denied the affairs.
The Democratic-led House Oversight Committee
asked
the SDNY last week if Justice Department guidelines about not indicting a sitting president prevented them from charging Trump with campaign finance law violations.
David Rutz
is managing editor of the Washington Free Beacon. He was previously a sports reporter for two years in Atlanta and has done freelance sports reporting for the
Washington Post
. He graduated from Vanderbilt University in 2010 and lives in Roswell, Ga. His Twitter handle is @DavidRutz.
Read the whole story
· · ·
Next Page of Stories
Loading...
Page 3
5:49 AM 7/22/2019 - The 19 Questions to Mueller. By The New York Times, about nothing.
Mike Nova's Shared NewsLinks Review In 250 Brief Posts
Were Robert S. Mueller III ever to tell the inside story of his investigation, much of America would likely come to a standstill to hear what he had to say. There is virtually no chance that will happen when he testifies for about five hours before two congressional committees this week. It took weeks of negotiations just to persuade him to show up. He has already said that his testimony won't go beyond what is in the 448-page report he delivered, and he urged people to read it.
But even members of Congress admit that they have only skimmed it. And even if all Mr. Mueller does is quote from his report, his words will be carefully analyzed, from the points he chooses to highlight to the inflections of his voice. Ahead of the hearings, we pose some of the many lingering questions about his two-year investigation into Russia's interference in the 2016 election and whether President Trump obstructed justice by trying to interfere with it, along with what we know or not about the answers.
The Context
The Mueller report says his prosecutors did not want to delay the investigation at a late stage with a subpoena fight that could drag on. They also thought they had "substantial" information from other witnesses that allowed them to assess the president's actions. Nonetheless, not subpoenaing Mr. Trump was one of Mr. Mueller's most controversial because it arguably allowed the president to evade hard questions without real political damage.
The Context
After more than a year of negotiations, the president refused to be questioned by prosecutors. He also refused to answer any questions related to allegations of obstruction of justice or to the presidential transition period. He
submitted written replies
to questions, but they revealed little.
The Context
The prosecutors asked Mr. Trump more than 65 written questions, including follow-ups. Although he has professed to have the "world's greatest memory," Mr. Trump said more than 30 times that he had no recollection. For instance, he said he did not recall any communications with Roger J. Stone Jr., a friend and former campaign adviser now facing criminal charges, in the six months preceding the election. When prosecutors complained that his answers were "inadequate," they were rebuffed.
The Context
This is probably the most burning question for Mr. Mueller, but good luck getting him to answer it. His report cites
a 2000 opinion
by the Justice Department's Office of Legal Counsel which states that a sitting president cannot be criminally charged. Given that, the prosecutors
never analyzed
whether the evidence against Mr. Trump amounted to a prosecutable case. Still, one would assume the team discussed it, at least informally.
The Context
Some Mueller defenders note that if Mr. Barr was disappointed with how Mr. Mueller ended his investigation, he could have just ordered him to come to a conclusion. Asked about that, Mr. Barr told The New York Times this month that Mr. Mueller
had a lot of time
to think about his approach, and "I wasn't going to try to bully him into doing something different."
The Context
The report says that accusing the president of a crime would not only inhibit the president's ability to govern, but could "potentially pre-empt constitutional processes for addressing presidential misconduct." A footnote cites the Constitution's impeachment clauses. One interpretation is Mr. Mueller felt it was his job to gather evidence, and Congress's job to decide whether and how to hold Mr. Trump accountable.
The Context
Critics claim that Mr. Barr has glossed over the president's efforts to interfere with the special counsel's work and downplayed the seriousness of the evidence against him. During a 10-minute address at the Justice Department in May — his only public comments about the inquiry so far — Mr. Mueller
stressed the gravity of allegations of obstruction of justice
.
The Context
Mr. Barr is pushing forward with his review of the origins of the Russia investigation.
He has said he wants to know
how "the bogus narrative" began "that Trump was essentially in cahoots with Russia to interfere with the U.S. election." Mr. Mueller presumably knows something about how it began because he inherited the inquiry, though it had already been underway for nearly 10 months. His report notes investigators had already collected "substantial evidence" by the time he was appointed in May 2017.
The Context
Before Mr. Barr released his report, Mr. Mueller met twice with the attorney general and wrote him two letters.
One has been made public,
and it makes clear that Mr. Mueller wanted Mr. Barr
to release executive summaries
of his report. But in his news conference, Mr. Mueller declined to criticize Mr. Barr for not doing so, saying that he believed the attorney general had acted in good faith and was grateful that he ultimately released almost the entire report.
The Context
President Trump repeatedly mocked the special counsel's team as angry Democrats. Before he was nominated as attorney general,
Mr. Barr said that he would have preferred "more balance on this group."
At his news conference, Mr. Mueller praised his F.B.I. agents and prosecutors as people "of the highest integrity" who conducted the investigation in a fair and independent manner.
The Context
The report notes that a president is not immune from criminal prosecution once he leaves office, nor are others who might have conspired to obstruct justice. During his brief appearance in May, Mr. Mueller also noted that the special counsel regulations specifically authorized him to investigate obstruction of justice.
The Context
The special counsel's investigation lasted nearly two years. Mr. Mueller delivered his 448-page report on March 22. Mr. Barr and Mr. Rosenstein reached their decision two days later. On the other hand, they had a running start: Mr. Mueller had kept Mr. Rosenstein abreast of developments throughout the inquiry, and Mr. Barr had also been briefed after being sworn in as attorney general.
The Context
The Democrats will certainly try to get Mr. Mueller to recount the president's most questionable behavior. The report suggests that four episodes were particularly problematic: ordering the White House counsel Donald F. McGahn II to have the Justice Department fire Mr. Mueller; pushing Mr. McGahn to deny that he had directed him to oust Mr. Mueller; dangling the possibility of a pardon for his former campaign chairman Paul Manafort, who was fighting criminal charges filed by Mr. Mueller; trying to force Attorney General Jeff Sessions, through an intermediary, to drastically limit Mr. Mueller's investigation.
The Context
At an
April 18 news conference
, Mr. Barr said that the special counsel "did not find that any person associated with the Trump campaign illegally participated in the dissemination of the materials" by WikiLeaks. Nonetheless, if any Trump campaign associates worked with WikiLeaks to release documents stolen by Russia, even in a legal fashion, it would raise ethical questions and could hurt Mr. Trump politically.
The Context
Among other obstacles, the report noted that numerous witnesses lived abroad, and documents could not be obtained.
The Context
The report references the president's oldest son 164 times, but the information does not seem to be drawn from any interview of him by prosecutors. One sentence mentioning Donald Trump Jr. was heavily redacted to protect grand jury secrecy. Mr. Mueller will likely refuse to answer this question for the same reason the information is redacted from the report.
Read the whole story
· · · · · · · ·
Read the whole story
· · · · · · · ·