M.N.: Bravo, Mr. Grenell! You must be doing something right if they all scream about it like mad hatters. Their true emotions and attitude are coming out. Keep it up, you do have everybody's support, we admire you. Our dear German friends better start developing some deeper insights about their existential "been thrown into the World", otherwise thrown they will be, again. - 11:42 AM 3/20/2019
Get link

Facebook

Twitter

Pinterest

Email

Other Apps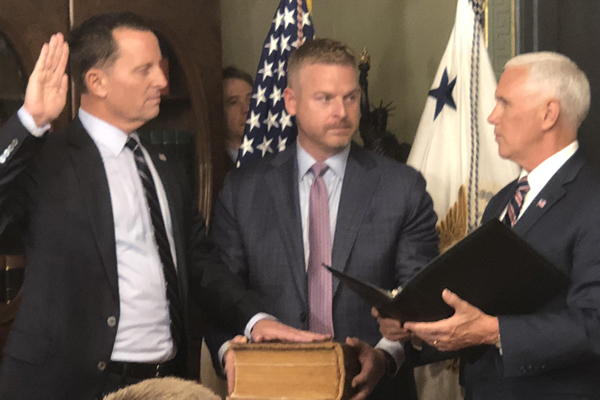 M.N.: Bravo, Mr. Grenell! You must be doing something right if they all scream about it like mad hatters. Their true emotions and attitude are coming out. Keep it up, you do have everybody's support, we admire you. Our dear German friends better start developing some deeper insights about their existential "been thrown into the World", otherwise thrown they will be, again.
"As Dasein, I ineluctably find myself in a world that matters to me in some way or another. This is what Heidegger calls
thrownness
(
Geworfenheit
), a having-been-thrown into the world."
11:42 AM 3/20/2019
Wolfgang Kubicki, the deputy chairman of the opposition Free Democrats (FDP), said Richard Grenell's repeated interference in German sovereignty should prompt Foreign Minister Heiko Maas to immediately declare Grenell persona non grata.
"Any US diplomat who acts like a high commissioner of an occupying power must learn that our tolerance also knows its limits," said Kubicki, who is
also one of five deputy speakers
of Germany's Bundestag parliament.
Grenell's criticism of Germany's defense spending came weeks after he demanded that Berlin halt Nord Stream 2, a gas pipeline being laid across the Baltic Sea to deliver gas from Russia to Germany, and threatened firms involved in the project with sanctions.
SPD: 'Complete diplomatic failure'
Carsten Schneider, caucus manager of the Social Democrats (SPD) within the parliament, told the German news agency DPA on Tuesday that "Mr Grenell is a complete diplomatic failure."
Grenell's behavior, said Schneider, reminded him of "a flail," a farmyard term for somebody who thrashes around wildly, adding that "Mr Grenell damages trans-Atlantic relations with his repeated clumsy provocations."
President Donald Trump's ambassador apparently did not want to recognize that Germany was making a big contribution to the alliance's international missions such as Afghanistan, said Schneider.
Show restraint, urge German conservatives
Michael Grosse-Brömer, a member of Chancellor Angela Merkel's conservative alliance (CDU/CSU), urged Grenell to show restraint.
"If one keeps an overall view, many comments made are more coherent than those of the American ambassador, if he thinks he has to comment on something every week," said Grosse-Brömer.
Germany was the second-largest provider of troops in Afghanistan and was also active in Mali [within a UN mission], he added.
"Germany meets many obligations in terms of foreign assignments and international responsibility and is very committed," said Grosse-Brömer.
Greens: Kubicki's demand 'plain nonsense'
The foreign affairs spokesman for Germany's opposition Greens, Omid Nouripour, dismissed Kubicki's remarks as "plain nonsense."
Grenell was the communications interface with President Donald Trump and in the present circumstances "this was needed more than ever before," Nouripour told the
Neue Osnabrücker Zeitung
newspaper.
ipj/amp (dpa, AFP)
Read the whole story
· · · ·
Next Page of Stories
Loading...
Page 2
Next Page of Stories
Loading...
Page 3
Bernie Sanders' speechwriter didn't disclose campaign role while writing Twitter attacks on other Dems: report
Fox News
David Sirota, a journalist and speechwriter officially brought into Sen. Bernie Sanders presidential campaign on Tuesday, failed to disclose his previous work ...
"social media in trump campaign" - Google News
In many ways, it's an understandable call for Deutsche to have made. It's potentially the biggest deal in your corporate history. Getting the execution wrong could be a disaster. Who do you go to for advice? Your own internal FIG investment bankers, who have the advantage of an intimate knowledge of your particular circumstances? Or an external advisor, who might be a bit more objective and have a sense of critical distance. If you have the chance to appoint someone who can combine knowledge with objectivity, that's arguably the best of both worlds.
Either way, he's back and he's got the ear of top management. If you're working in a senior position at Deutsche Bank, and you're in one of the functions which might reasonably be thought in danger of being cut back, or treated as "merger synergy", then it's worth going through your memory to see if you've ever got on the wrong side of Tadgh.
It makes you think about other possible pairings of slightly outdated pop artists and global banks. Deutsche Bank would presumably like to think of themselves as Kraftwerk, motoring with sleek precision down the "Autobahn", but more realistically, they're German heavy metal stalwarts The Scorpions, waiting for "The Wind of Change". Goldman Sachs could celebrate their new dress code by teaming up their CEO with ZZ Top for a dance remix of "Sharp Dressed Man", possibly changing the lyrics to "Sharp Dressed Person" to reflect their new gender balanced hiring policy. And of course, it is hard to think of either JP Morgan's Jamie Dimon or Unicredit's Jean-Pierre Mustier taking the stage at a results presentation to any other theme song than "Simply The Best".
(It may be memory playing tricks, but this Morning Coffee author distinctly remembers a conference call held by a European bank which was meant to discuss the three topics of a profit warning, a rights issue and a large regulatory fine. The hold music was 1999s indie classic "Why Does It Always Rain On Me?")
Meanwhile …
Read the whole story
· · · · ·
M.N.: The U.S. - Germany Diplomatic Meltdown: The German politicians' tone, the Merkel's ridiculous, clearly hypocritical, grandiose pronouncements and the pretenses to become the center of the World leadership in human rights and other areas
trumpinvestigations.blogspot.com/2019/03/mn-us-…
---
Posted by
mikenov
on Wednesday, March 20th, 2019 7:56am
FBI tracked Michael Cohen's phones with controversial device
WHYY
Agents using a Triggerfish cell-site simulator tracked the whereabouts of Cohen's two iPhones to a pair of rooms a floor apart at the Manhattan hotel where he …
"fbi and trump" – Google News
Из альбома к материалу
19 марта 2019 года
Москва, Кремль
________________________________________________________
M.N.: It looks and feels to me that some valuable exchange of information and opinions took place at this meeting. Maybe we are going to learn a bit more about the Trump-Kushner Crime Family and the heroic exploits of the Bielski Partisans. Stay tuned. - 5:46 AM 3/20/2019
______________________________________
Next Page of Stories
Loading...
Page 2
Next Page of Stories
Loading...
Page 3
But if Mueller hasn't looked at
Trump's
relationship the
German bank
, Schiff said, "they have not done a diligent investigation of money laundering.".
Former FBI Director James Comey explains why it's so hard to prosecute white-collar criminals, as 2020 Democrats slam 'two systems of justice' CNBC WILLIAMSBURG, Va. — Democratic presidential contenders want Wall Street executives locked up for crimes committed on their watch — but former FBI … "political crimes" – Google News Crime and Criminology from Michael_Novakhov …

-
DONATE: https://www.gofundme.com/trump-investigations-report | The New Abwehr Hypothesis of The Operation Trump: A Study In Political Psychology, Political Criminology, and Psychohistory, and as the aid for the General, Criminal and the Counterintelligence Investigations of Donald Trump - by Michael Novakhov, M.D. (Mike Nova): Web Research, Analysis, Hypotheses, and Opinions | Current News | Reviews of media reports | Selected reading lists | Site: http://trumpinvestigations.org/
Read the whole story
· · · · · · · · · · · · · · · · · · · · · ·
Next Page of Stories
Loading...
Page 4
Get link

Facebook

Twitter

Pinterest

Email

Other Apps