Panel, Justice strike deal on Mueller report - 9:22 AM 5/23/2019
Panel, Justice strike deal on Mueller report - 9:22 AM 5/23/2019
WASHINGTON — At least for now, the House Intelligence Committee will not enforce a subpoena against Attorney General William Barr, after the Justice Department agreed at the 11th hour to produce the redacted material and underlying information from special counsel Robert Mueller's report that the panel sought — albeit more slowly than it wanted.
Rep. Adam Schiff, D-Calif., the committee's chairman, announced the deal in a statement Wednesday morning. He warned that the subpoena "will remain in effect and will be enforced should the Department fail to comply with the full document request."
Schiff added that he expects the "initial production" of providing the committee with 12 categories of counterintelligence and foreign intelligence material from Mueller's probe of election interference by Russia will "be completed by the end of next week."
The deal is a rare instance of detente between House Democrats and Justice Department leaders, who remain bitterly at odds over the administration's resistance to congressional requests for documents and witnesses. But just hours after the agreement was announced, President Donald Trump declared that he would not work with congressional Democrats on any legislative ventures so long as investigations of his campaign, finances and foreign ties continue.
It was not clear if the president's declaration jeopardizes the deal the House Intelligence Committee struck with the Justice Department.
In a letter Tuesday to Schiff, Assistant Attorney General Stephen Boyd wrote that "the Department is willing to move forward with efforts to accommodate the Committee's legitimate interests" to view the items it requested." But Boyd argued that the Justice Department would need more time to produce them, and he made the counteroffer contingent on the committee's promise "that it will not pursue any vote on an 'enforcement action,' either on May 22, or while such good-faith accommodation measures continue."
"To be clear should the Committee take the precipitous and unnecessary action of recommending a contempt finding or other enforcement action against the attorney general, then the Department will not likely be able to continue to work with the Committee to accommodate its interest in these materials," Boyd wrote.
Holding off on the subpoena puts Schiff's committee somewhat at odds with the rest of the House Democratic conference, where members have been agitating for impeachment proceedings against the president as other panels' efforts to secure materials and witnesses are met with recalcitrance from the administration.
Schiff's decision to accept the Justice Department's efforts to accommodate his requests provides House Speaker Nancy Pelosi with a potential off-ramp to avoid calls for impeachment, at least in the near future.
Both the House Intelligence and Judiciary committees have been making the case to Barr that they should be able to view the full contents of Mueller's report, plus certain underlying materials. Barr has argued that it would be illegal for him to deliver the full redacted materials to the Judiciary Committee as requested, because it would require releasing grand jury information that cannot be disclosed without a court order. He has rejected House Democrats' entreaties to join them in making an appeal to a judge to release those materials.
But Schiff made his case for seeing the same materials on the grounds that the Mueller report deals with counterintelligence matters — and the Intelligence Committee has a legal right to view materials pertaining to counterintelligence, whether they originated with a grand jury or not. Rep. Devin Nunes, Calif., the committee's top Republican, had joined Schiff in letters to Barr making the case for such access, although he did not sign on to the eventual subpoena that Schiff issued earlier this month.
"The Department has repeatedly acknowledged the Committee's legitimate oversight interest in these materials," Schiff said in a statement Wednesday. "I look forward to, and expect, continued compliance by the Department so we can do our vital oversight work."
Read the whole story
· · ·
---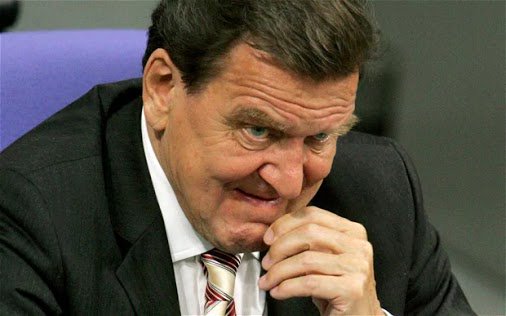 ---
Posted by
mikenov
on Thursday, May 23rd, 2019 11:03am
Next Page of Stories
Loading...
Page 2
Former Supreme Court president Dorit Beinisch on Thursday lashed Prime Minister
Benjamin Netanyahu's
apparent plan to clip the High Court of ...
---
The #NewHolyAlliance: #Russia & #EuropeanRight: Is #TrumpistAmerica the next "#HolyAlliance" #Member? Are These The "#PhantomPains" of #Putin's #ImperialNostalgia or his #GrandioseRoyalDelusions?
trumpandtrumpism.com/2019/05/23/m-n…
#FBI #CIA #ODNI #StrategicAnalysis #PutinRightistParties #CI
pic.twitter.com/jcQnanuexu
---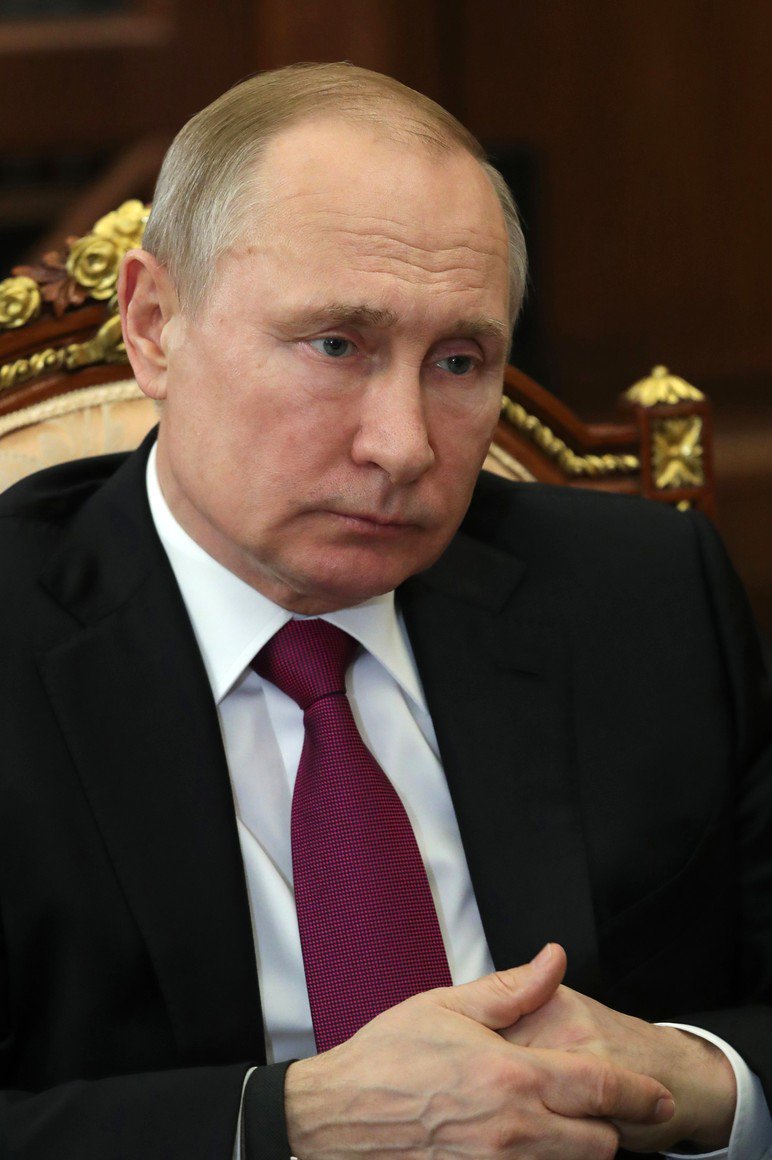 ---
Posted by
mikenov
on Thursday, May 23rd, 2019 7:14am
Read the whole story
· · ·
#Judge says #DeutscheBank must give #Congress #Trump's #financialrecords
scmp.com/news/world/uni…
#FBI #CIA #ODNI #USA #US #UN #TrumpInvestigations #TrumpProbe #InvestigateTheInvestigators! #ImpeachTrump #TrumpRussia #TrumpNewAbwehr #TrumpBrand #InvestigateFBI #Senate #Impeachment
pic.twitter.com/fERAEo3Twt
---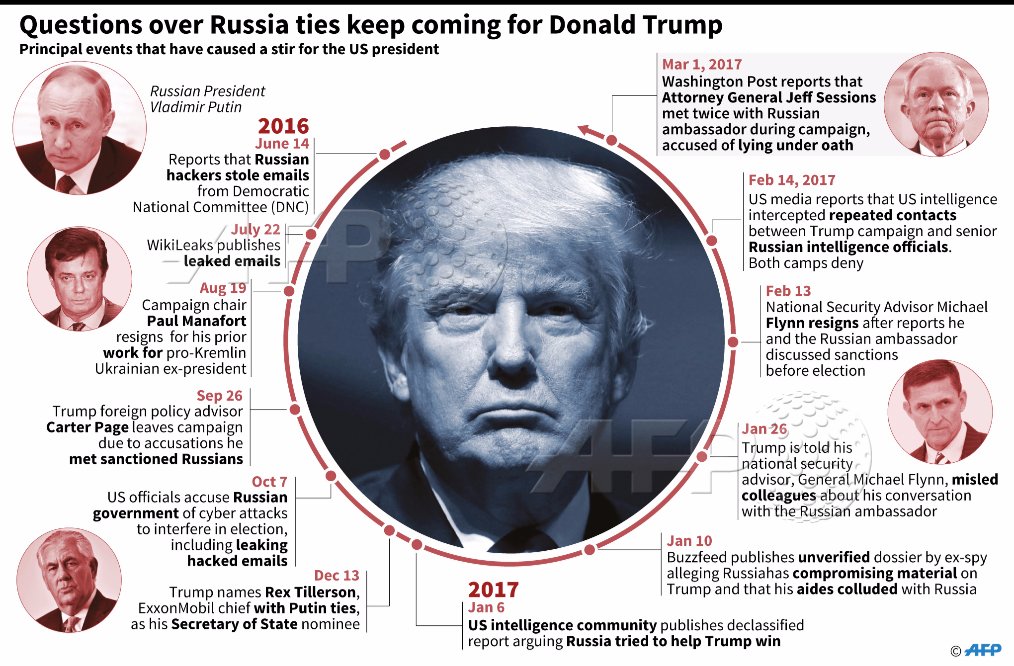 ---
Posted by
mikenov
on Thursday, May 23rd, 2019 11:25am
PA Minister: Maybe we should prosecute Trump
The Jerusalem Post
Palestinian Culture Minister Atef Abu Saif called on President Donald Trump and several prominent American politicians to be prosecuted for their crimes ...
Rex Tillerson, a man who is "dumb as a rock" and totally ill prepared and ill equipped to be Secretary of State, made up a story (he got fired) that I was out-prepared by Vladimir Putin at a meeting in Hamburg, Germany. I don't think Putin would agree. Look how the U.S. is doing!
---
Posted by

realDonaldTrump
on Thursday, May 23rd, 2019 12:29pm
8693
likes,
2198
retweets
In a letter to her House colleagues, Nancy Pelosi said: "President Trump had a temper tantrum for us all to see." This is not true. I was purposely very polite and calm, much as I was minutes later with the press in the Rose Garden. Can be easily proven. It is all such a lie!
---
Posted by

realDonaldTrump
on Thursday, May 23rd, 2019 2:28am
35203
likes,
9124
retweets
Next Page of Stories
Loading...
Page 3
---
--The Internal Revenue Service says in a memo that it has no choice but to honor congressional requests for Donald Trump's tax returns unless the president invokes executive privilege
-Call the 24/7 Voicemail Line: (219)-2DAVIDP
-Timely news is important! We upload new clips every day, 6-8 stories! Make sure to subscribe!
Broadcast on May 22, 2019
MidweekPolitics's YouTube Videos
At
least three federal
investigations
into alleged FISA abuse and other ... One subject
of
Nunes' letter to
Trump is
Maltese academic Joseph Mifsud, the ...
Zero is getting done with the Democrats in charge of the House. All they want to do is put the Mueller Report behind them and start all over again. No Do-Overs!
---
Posted by

realDonaldTrump
on Thursday, May 23rd, 2019 2:31am
55701
likes,
13993
retweets
According to sources, one of the potential meetings on the trip will be between the Trump children -- Ivanka Trump and
Jared Kushner
, Tiiffany Trump, ...
Senate Dem. warns Trump could push through Saudi bomb deal without congressional approval
NBC News
Democratic Sen. Chris Murphy warned on Wednesday that the Trump administration is considering a move to bypass Congress and push through the sale of ...
"trump as danger to National Security" - Google News
Next Page of Stories
Loading...
Page 4
... marked the Ministry of Defense as his own in the upcoming government, which should soon be announced by Prime Minister
Benjamin Netanyahu
.
Federal Rats Are Fleeing the Sinking Collusion Ship
American Greatness
By Victor Davis Hanson| 2019-05-22T15:45:14-07:00 May 22nd, 2019|. AddThis Sharing Buttons. Share to Facebook FacebookShare to Twitter TwitterShare to ...
Washington (CNN) President Donald
Trump
seems to have realized that despite the end of the Mueller probe, his administration may never escape ...
And potential investors will also have noticed that President Trump's son-in-law
Jared Kushner
, who is steering the plan, has had little success in ...
| | |
| --- | --- |
| | Michael_Novakhov shared this story from Trump News TV from Michael_Novakhov (11 sites). |
---
From:
CNN
Duration:
09:07
---
In an interview with CNN's Don Lemon, Senate Minority Leader Chuck Schumer (D-NY) describes the meeting he and House Speaker Nancy Pelosi (D-CA) had with President Trump, saying he believes it was a set-up for the press. #CNN #News
CNN's YouTube Videos
---
Senate Minority Leader Chuck Schumer talks with Rachel Maddow about how Donald Trump tried to cover for being ill prepared for an infrastructure meeting with Democratic leaders by putting on a temper tantrum spectacle for the media.
» Subscribe to MSNBC:
http://on.msnbc.com/SubscribeTomsnbc
MSNBC delivers breaking news, in-depth analysis of politics headlines, as well as commentary and informed perspectives. Find video clips and segments from The Rachel Maddow Show, Morning Joe, Meet the Press Daily, The Beat with Ari Melber, Deadline: White House with Nicolle Wallace, Hardball, All In, Last Word, 11th Hour, and more.
Chuck Schumer: Donald Trump Bailed On Meeting To Throw Rose Garden Tantrum | Rachel Maddow | MSNBC
msnbcleanforward's YouTube Videos
Next Page of Stories
Loading...
Page 5
---
Tensions between the USA and Iran have been rising in recent weeks, as the White House accuses Iran of threatening its interests...
In recent days, the US has deployed the USS Abraham Lincoln aircraft carrier to the region and reportedly drawn up plans to send 120,000 troops to the Middle East.
A BBC team was on board the carrier whilst in the Mediterranean.
bbcnews's YouTube Videos
No one outside of the
Trump
Organization has more firsthand knowledge of Donald
Trump's
connections to
Russia
than Felix Sater. In 2006, he ...
UK's Hunt Says Russian Intelligence Services Targeting Infrastructure of Many Countries
UrduPoint News
UK Secretary of State for Foreign Affairs Jeremy Hunt said Thursday that Russian intelligence services were targeting infrastructure of many countries looking for ...
"Russian Intelligence services" - Google News
Federal Rats Are Fleeing the Sinking Collusion Ship
National Review
John Brennan, James Clapper, James Comey, Andrew McCabe, and Rod Rosenstein are now beginning to accuse one another of wrongdoing.
"Comey" - Google News
Next Page of Stories
Loading...
Page 6
Five things to know about Europe's surprisingly dramatic parliamentary elections
The Washington Post
The results will affect the future of the European Union and the bloc's dealings with the rest of the world.
"US elections and russia" - Google News
#GerhardSchroeder #controls #Gazprom and #Rosneft and therefore he, and the #GermanSocialDemocracy, led and equipped by the #NewAbwehr, #control #Russia herself, and not as #Trump claimed, that "#RussiacontrolsGermany".
trumpandtrumpism.com/2019/05/23/325…
---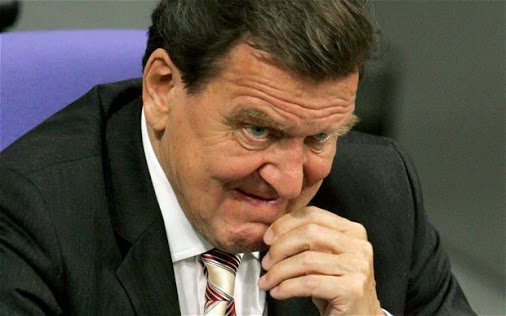 ---
Posted by
mikenov
on Thursday, May 23rd, 2019 7:55am
Spannende Diskussion. "Staatsmacht nutzen, um Wirtschaftsmacht zu schützen", sagt #GerhardSchröder im #IndustrieClub #Düsseldorf. #Digitalisierung #fazInstitut
pic.twitter.com/5fKGCyPpz9